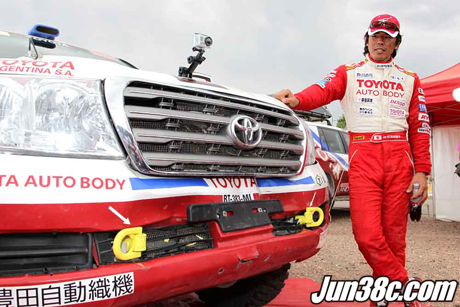 January 2(Local date), today's course was going through the narrow alley in the mountain range then getting over the sand dune.
The hot weather continued and Jun ran in the expected dusty road. There was one more bad thing: the car ignored the sentinel(The equipment that informs the leading vehicle before the follower is  about to pass). When the precursor alerts the sentinel, one must yield, but there was no sign notifying to get out of the way at that time. Jun chased the car in front of him from nose to tail to prevent the dust from blocking his view. When that car lost balance, Jun passed that car at last. He got a clear view after passing the car, but the dust cut off the view when he was catching-up  to the other car again. When the wind changed to side wind, he got a clear view again. Those situations were repeated all day long.
Jun's tire then came off from the wheel again in the last of sand dune. This trouble happened when he had not noticed any symptoms at all, and that was the anxiety. He changed the tire at once and the loss of the time was a little. The sand dune waited with a big hole that could swallow a whole car. Jun took the strong challenge with his car and pared off the sand then came over the sand dune without a loss ! That was a very fortunate.
Jun passed many cars today. He said "The time difference between the top team of my class and me is within the range. I can catch up on that and will keep my own pace without feeling pressed for the time and the rank till the last day of the Rally"
Dakar Rally 2012 Stage 2 Result:
Liaison: 486km SS: 290km
T2 Autos Result 2nd
Overall standings: 37h
http://www.dakar.com/dakar/2012/fr/pilote/339.html
Top 5:
Pos. N° Name Mark Time variation Penalty
1  340 FOJ (ESP) CERVANTES () TOYOTA 4:34:51-
2  339 MITSUHASHI (JPN) GUEHENNEC (FRA) TOYOTA 4:43:37 0:08:46 –
3  342 TERADA (JPN) TANAKA (JPN) TOYOTA 4:56:54 0:22:03 –
4  346 ALHERAIZ (UAE) ALKENDI (UAE) TOYOTA 5:02:52 0:28:01 –
5  341 WAUTERS (BEL) FERYN (BEL) TOYOTA 5:04:42 0:29:51 –