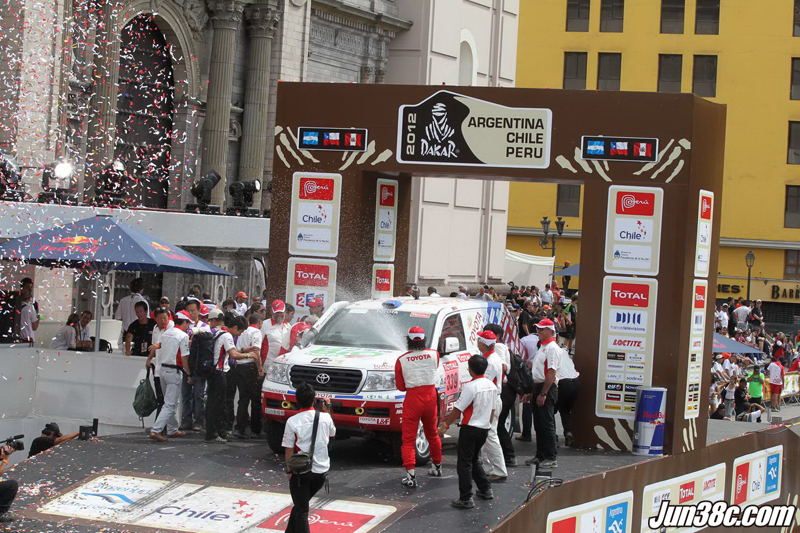 January 15(Local date), the last day of Dakar Rally 2012. The competitors accomplished 9000 km road and had a big finale in Lima, the capital of the Republic of Peru.
The last SS was short and Jun attacked the sand dune. He said that it passed by like a flash but he saw 2 cars were stuck in the sand dune and the sand dune made more resistance than he thought. The SS was over safely and I was able to talk with Jun on the line after the ceremony finished.
Jun said "In this Dakar Rally, the tire came off from the wheel at the first stage so I wasn't able to get auspicious start and that was the cause of the defeat." In the past Rallies, he took the margins at good pace day by day. However, Jun was mentally pressed about the time gap didn't get quite big with followers in the first half of the Rally.
In the stage 9, Jun had a sense of security with a big lead with followers. However, he couldn't get in flow after that because of repeated troubles. The radiator broke 2 times, those were accidents that he never imagined possible. He won't be able to fix what he has already screwed up, but he is feeling remorse. Ulitimately, this was a remarkable Rally that was troubling even for a well experienced driver like Jun.
Jun said "The Rally is over and the result is settled. I am really sorry that I wasn't able to respond to the expectations."
We believe his challenge will continue and hope he carry on this feeling to a next rally.
Dakar Rally 2012 Stage 14 Result:
Liaison: 254km SS:29km
T2 Autos Result: 2nd
Overall standings: 25th
Pos. N° Name Mark Time variation Penalty
1 340 FOJ (ESP) CERVANTES () TOYOTA 09:25:41 -  -
2 339 MITSUHASHI (JPN) GUEHENNEC (FRA) TOYOTA 10:25:14 00:59:33 -
3 346 ALHERAIZ (UAE) ALKENDI (UAE) TOYOTA 13:32:58 04:07:17 -
4 424 GIRARD (FRA) SIMONIN (FRA) TOYOTA 23:21:46 13:56:05 -
5 341 WAUTERS (BEL) FERYN (BEL) TOYOTA 16:40:15 07:14:34 07:00:00
6 412 TOTANI (ITA) TOTANI (ITA) MITSUBISHI 03:44:23 18:18:42 10:20:00
7 415 MOGNIER (FRA) VAUTIER (FRA) TOYOTA 16:34:49 07:09:08 17:00:00
8 439 THUEIL (FRA) THUEIL (FRA) TOYOTA 09:44:07 00:18:26 22:42:00
http://www.dakar.com/dakar/2012/us/stage-14/rankings/overall-cars.html#ancre