October 4, 2011 STAGE3 Tibniya to SAHL BARAKA
Rally des Pharaons 2011
LIASON: 22.58 kilometers Special Stage: 286.64 kilometers Total drive distance: 310.64 kilometers
Today's total drive distance is said to be 310 kilometers which is the shortest stage distance in this rally. The course which runs through the white desert national park has many place with strange rock formations and unlike yesterday has finally become a course with a more "pharaoh-like" view. However the road surface as usual has many sharp and craggy rocks so the driver can never relax.
Mitsuhashi comments, "Except for a slight course error right after the race started, we had no trouble today and of course no flat tires. However today's course was the high speed course so I didn't think we could beat the fast G-FORCE car which has the highest speed. In fact they overtook me at an early stage in the race but later on they ran into some kind of trouble and had to stop so and I was able to get ahead of them again. The G-FORCE car from Russia is certainly fast but looks kind of roughly built so I suppose that they may have had some type of mechanical trouble. If possible I just want to maintain my race position which is difficult in this high-speed stage that doesn't rely much on driver skill. I don't know about tomorrow, but the day after that is Stage 5 which is said to be tough sand dunes so that may be my big chance. The more difficult it is the better. What, you say I like "getting stuck" on sand? Never thought about it but I just have to keep going."
Tomorrow Mitsuhashi will leave today's bivouac area which is Sahl Barak on the outskirts of the Farafra Oasis and head south, returning once again to the same course of bedrock and sand dunes.
October 5 Pharaons Rally 2011 Stage 3 Results
Overall standings Group standings Class standings Driver Number Competitor Team Vehicle Time Overall (accumulated) Time
1st Place 1st Place 1st Place 301 Schlesser Jean Louis Zhiltsov Konstantin Sonangol Schlesser 2:58:28
2nd Place 1st Place 1st Place 304 Mitsuhashi Jun Guehennec Alain Toyota Landcruiser 3:22:55
3rd Place 2nd Place 1st Place 302 Gadasin Boris Schemel Dan G-FORCE PROTO 3:28:15
4th Place 3rd Place 2nd Place 316 Casuneanu Costel Zani Maurilio Mitsubishi Pajero 3:29:50
5th Place 4th Place 3rd Place 311 Nesterchuck Vadym Lichtleuchter Laurent 5:45:37 3:47:19
Overall standings Stage 2
Overall standings Group standings Class standings Driver Number Competitor Team Vehicle Time Overall (accumulated) Time
1st Place 1st Place 1st Place 301 Schlesser Jean Louis Zhiltsov Konstantin Sonangol Schlesser 12:16:14
2nd Place 1st Place 1st Place 304 Mitsuhashi Jun Guehennec Alain Toyota Landcruiser 13:28:02
3rd Place 2nd Place 1st Place 302 Gadasin Boris Schemel Dan G-FORCE PROTO 13:44:23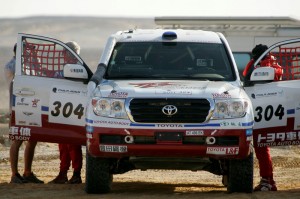 In standby mode before start of the race, and wearing fire-proof mask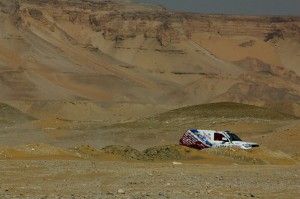 Arriving at finish in SS-3 in 2nd place overall