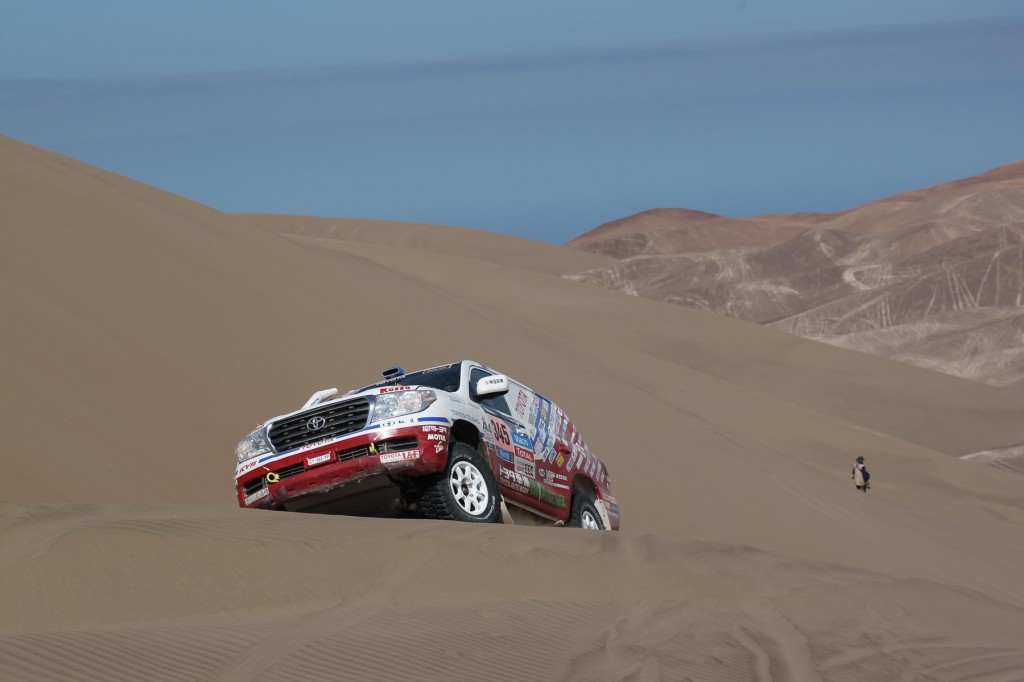 Tomorrow is the biggest day !
January 15(Local date), tomorrow not today. Jun finished today's stage in very good condition with such a thought ran through his mind. There was a trouble but Jun raced in a comparatively smooth progress today. He ended the stage 10 as the first place of his class with a great feeling.
Today's stage was the long way of 631km but the distance included the road paved with asphalt. The distance is not a matter for him. It suffice to say that the sand dunes were difficult. Jun tried to climb several times and he changed the route to get over difficult sand dune though the tire came off from the wheel's rim once. Jun's team mate started before him and both cars entered the sand dune area almost same time therefore Jun used what team mate did to over the sand dune as reference for his attack.
After Jun came out the sand dune area, the car lost the wheel balance and a big vibration happened on the auto body. The reason of the vibration was the sand of feshifeshi ground adhered the inside of the wheels. Jun stopped the car to clear the sand from the wheels at 30km before the goal. He could not remove all of it and continued to drive to the finish line.
The course of today was not easy but Jun's time was fast and he raised one rank in the overall ranking. His motivation headed for tomorrow already. It is the biggest day of Dakar Rally 2014. Hope Jun braces himself up in a straightforward manner in the last 3 stages and back safely.
Dakar Rally 2014 Stage 10 Result:
Liaison:58 km
SS:631km
T2 Autos Result of today:1st
Overall standings of today:23nd
Total T2 Autos Result:1st
Total Overall standings:22nd