Two Flat Tires, Course Errors A tough Pharaons Rally 2011 from the very first day!
Rally des Pharaons 2011 STAGE1 Cairo to Tibniya
LIASON: 89.96 kilometers in Special Stage: 356.01 kilometers Total drive distance: 470.35 kilometers
The first day of the Pharaons Rally is usually an excellent route with a great view sometimes called the "welcome stage" in some year. But this time it was different!
In the briefing on the previous day Mitsuhashi was told to expect a course with many sand dunes and sandy road surfaces so he set the tires to a really low air pressure. He intended to gain ground on sandy road surface by carefully driving the rock and crag strewn course while avoiding banks. However nearly the entire course turned out to be rocks and crags (steep rocks)! (and more!)
He comments, "I started out with the tires at extremely low air pressure so it was really tough driving over places with a lot of rocks and craggy points. This cost me 2 flat tires and lost a lot of time. Moreover a lot of places were gaps so my estimate of a mostly sand course was way off the mark. Another problem was that Alain, my navigator made a number of course errors so honestly speaking things in Stage 1 weren't going very well. However after making a course error Alain quickly got us back on correct route which helped avoid a lot of trouble."
However these kind of tough circumstances are fairly typical for Mitsuhashi as a top leader in his class and group, and since he is a defending champion he may be used to this type of trouble in Stage 1.
The first day of the Pharaons Rally turned out to be really tough Stage 1. Many competitors returned home by nightfall. Tomorrow they will start out from Tibniya which is the bivouac area and drive a loop route which takes them back to the same place. The rumors at the bivouac area are that the route will be even harder than today's driving.
October 3 Pharaons Rally 2011 Stage 1 Results
Overall standings Group standings Class standings Driver Number Competitor Team Vehicle Time Overall Time
1st Place 1st Place 1st Place 321 Vasiliev Vladimir Yevtyekhov Vitaliy
G-FORCE PROTO 4:15:52 4:15:52
2nd Place 2nd Place 1st Place 301 Schlesser Jean Louis Zhiltsov Konstantin Sonangol Schlesser 4:16:22 4:16:22
3rd Place 3rd Place 1st Place 303 Zapletal Miroslav Ourednicek Tomas BMW X-3 4:26:41 4:26:41
4th Place 1st Place 1st Place Mitsuhashi Jun Guehennec Alain Toyota Landcruiser 4:34:19 4:34:19
5th Place 4th Place 2nd Place 302 Gadasin Boris Schemel Dan G-FORCE PROTO 4:43:00 4:43:00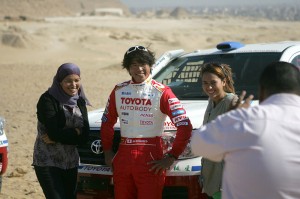 Super busy before the race start due to commemorative photos and TV station interviews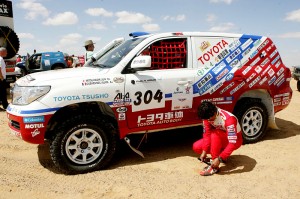 Mitsuhashi checking his racing shoes just before the SS start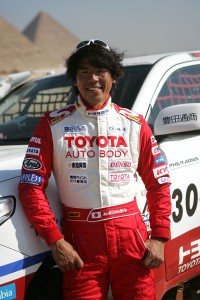 Mitsuhashi just before start of the race