Today we bring you a race report covering Jun Mitsuhashi, a top cross
country rally driver participating in the Rally des Pharaons 2011.
Sept. 30: Prep day: Cairo Egypt
After arriving at the suburban Cairo hotel serving as race headquarters,
Mitsuhashi spent the next 2 days relaxing including a few dips in the pool.
By the night of the 29th the other 14 team members also arrived and got
together there.
Sept 30: The race mechanics left that morning for Alexandria harbor to pick
up the race car and assistant's cars. After arriving back at the hotel at
3PM in the afternoon the mechanics started tasks such aligning the driver's
seat to match Mitsuhashi's frame and bodily positions and finished prepping
the car.
Tonight they are scheduled to have dinner with the president of Toyota Auto
Body who just arrived in Egypt after flying in from Japan to provide backup
support.
Local media coverage of the event will start tomorrow morning with drivers
screening tests and vehicles inspections scheduled in the afternoon.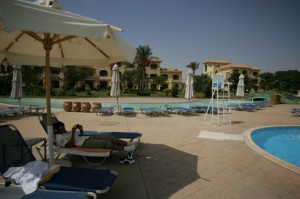 Mitsuhashi relaxing by the pool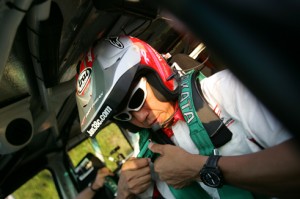 After aligning the seat to match the driver's body positions, the vehicle
prep was completed.