October 6, 2011 Rally des Pharaons 2011 Stage 4 Sahl Baraka to Sahl Baraka
LIASON: 22.58 kilometers Special Stage: 339.93 kilometers Total drive distance: 362.51 kilometers
In today's high speed stage of the race, Mitsuhashi started out from the bivouac a little before 8 in the morning and arrived back there 3 hours later. During that time Mitsuhashi had a repeated hard duel with rivals and tasted the full flavor of tough race driving.
Mitsuhashi comments, "Anyhow today we just ran for it, and ran for it. We were overtaken once by the two G-FORCE PROTO cars just before entering the sand dunes, but after entering the large undulating sand dunes our rivals did not appear to follow. However on flat and level portions of the road where power is needed we were passed again by our rivals. We again passed the G-FORCE PROTO cars while they made a race stop at the CP2 for oil, in what turned out to be a repeating duel between us. One of the rival car pair was stopped for some reason so the last part of the route was a side-by-side battle with their remaining car. The duel continued in a region with large undulating sand dunes with our rival gradually building up a lead. Just when I thought catching up with them was now impossible, I spotted their car where it had apparently crashed after a jumping a sand dune up ahead. There didn't seem to be any injuries but it didn't look like their rival would be back in the race since their car had sustained a lot of damage. After that it was just a cruising race for us. During the racing duel, my navigator Alain said, 'Don't go any faster' but I thought, if they gain a big lead then we'll never catch them, so I said, 'Sorry, today I'm going for it' and floored the gas pedal. Even so, Alain just said, 'Well I guess that pace is okay, but we'll die if you go any faster' as his final comment."
Tomorrow is Stage 5 which is said to be the longest and toughest part of the course. Making a big error in Stage 5 could completely destroy their race lead. Mitsuhashi also showed his cautious side saying, "I want to make it a sure thing tomorrow, but that doesn't mean I'll be on the defensive.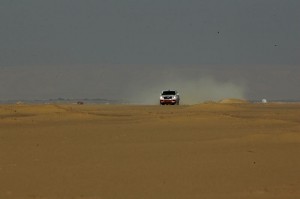 October 6 Pharaons Rally 2011 Stage 4 Results
Overall standings Group standings Class standings Driver Number Competitor Team Vehicle Time Overall (accumulated) Time
1st Place 1st Place 1st Place 301 Schlesser Jean Louis Zhiltsov Konstantin Sonangol Schlesser 2:59:40 15:15:54
2nd Place 1st Place 1st Place 304 Mitsuhashi Jun Guehennec Alain Toyota Landcruiser 3:10:56 16:38:58
3rd Place 2nd Place 1st Place 316 Casuneanu Costel Zani Maurilio Mitsubishi Pajero 3:18:42 20:37:03
4th Place 3rd Place 2nd Place 302 Gadasin Boris Schemel Dan G-FORCE PROTO 3:20:12 17:04:35
5th Place 4th Place 3rd Place 311 Nesterchuck Vadym Lichtleuchter Laurent 5:45:37 3:25:02 17:47:06
Overall standings Stage 4
Overall standings Group standings Class standings Driver Number Competitor Team Vehicle Time Overall (accumulated) Time
1st Place 1st Place 1st Place 301 Schlesser Jean Louis Zhiltsov Konstantin Sonangol Schlesser 15:15:54
2nd Place 1st Place 1st Place 304 Mitsuhashi Jun Guehennec Alain Toyota Landcruiser 16:38:58
3rd Place 2nd Place 1st Place 302 Gadasin Boris Schemel Dan G-FORCE PROTO 17:04:35