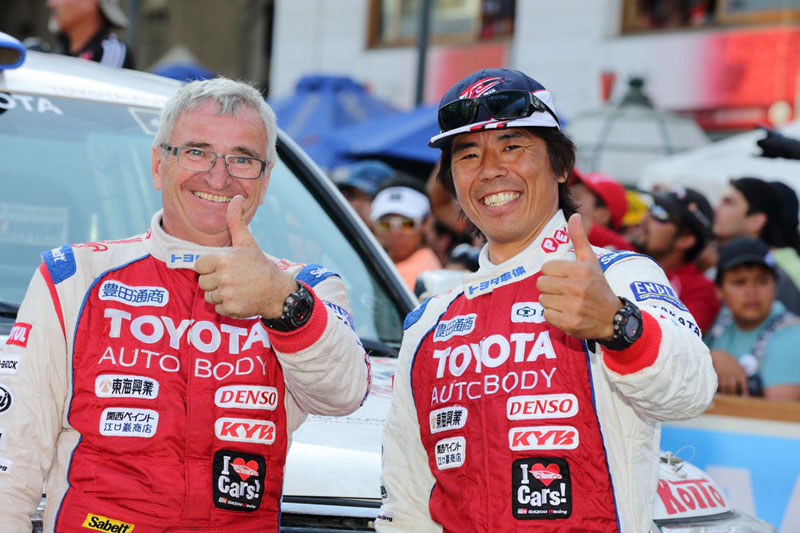 Came back to the champion of T2 Autos !
January 18(Local date), a heavy rain fell the morning of the last stage of Dakar Rally 2014 but no effect for the race. Jun got going carefully step by step till today but the course of the final stage was disarmingly easy.
The camions started with Jun and they made so much dust that was the cause of bad view for Jun. When he tried to pass the camions, Alan stopped Jun. Their fight went to the inverse pattern compared to the past. Jun passed the camions with an effort though the buggies blocked Jun's view and way again.
The low visibility by the dust was the danger for the follower and Jun sent the sign to pass by sentinel(The equipment that informs the leading vehicle before the follower is about to pass) to the buggy but it was ignored. Alan suggested to Jun to keep this situation though Jun wanted to pass the buggy, they had the argument again. After that, they finished the race without troubles and accidents.
Jun checked the car after the race, he found 2 of 5 wheel nuts broke. If diagonally set bolts broke was not so bad, but adjacent set bolts broke this time that was so bad and danger. If one more bolt broke, the wheel came loose and the car got a serious problem on the way. Jun thought it was a narrow escape. After fished the race, the argument with Alan during the race became the amusing story however Jun felt the luck was on his side.
After the car inspection, Jun stood on the podium as the winner. He made phone call from the car on the way to the hotel and said,
"I am so happy. I could cross the finish line safely this year".
Jun's voice was calm himself down with a full of delight.
Jun got centered on the race to the extent possible till today and his comments and voices will be come out little by little. We wait for those and celebrate the victory in 3 years ! Thank you for your support.
Dakar Rally 2014 Stage 15 Result:
Liaison:378km
SS:157km
T2 Autos Result of today:2nd
Overall standings of today:30th
Total T2 Autos Result:1st
Total Overall standings:21st