Stage 2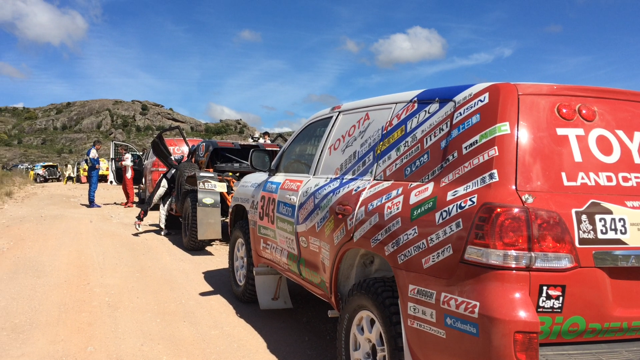 The First half of the stage 2 was high speed mountain roads. There were 2 slow cars in front of Jun and he could not pass 2 cars at one time, he had to take a time to overtake them. Jun found TLC Car No.2 stopped at road side and he made a stop to check out. The driver said the front differential's heat was out of the common. It was too much high actually but if so, differential must be broken. They agreed the heat gauge did not work and Jun backed to the road. After that, the front differential of Jun's car was heated too but the cause was unknown.
While Jun missed the course and the team mate took a lead then he tired to follow but Jun could not keep the concentration by owing to bad health. Feshifeshi(a sand like a powder) ground continued and his car stuck with the sand besides fell into big hole like a mortar by reduced ability to think. During going on the jaggy road of hill zone, his car's shock-absorbing is too short to run fast….. Jun thought he was late 30 minute from the team mate and Alan the navigator thought 10-15 minute late but they crossed the finish line only 3 minute late.
Alan whipped Jun like you're slow usually but today he understood Jun's health and said nothing. Jun thought bad health was heat attack but the cold was relapsing that he caught it in the year end. He could not stop coughing and too hard to report about the race on the phone. So we closed the phone quickly.
Dakar Rally 2015 Stage 2 Result:
Liaison:107km
SS:518km
Total:625km
T2 Autos Result:2nd
Overall standings:33th