The Start-Ceremony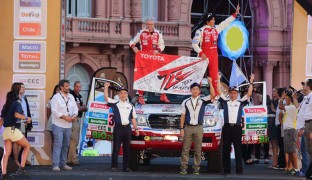 January 4(Local date), Finally Dakar Rally 2015 started from today. January 3(Local date), all race cars and drivers got together and show up on the Podium of the Start-Ceremony. So many people come to see the ceremony every year, and everybody so excited this year too.
Take a look back the recent move of Jun and the team roughly, Team Land Cruiser Toyota Auto Body(TLC) crew came into Argentina in the end of 2013, and Jun came here a bit before them and joined the team. The team got the official vehicle inspection in January 2(Local date) and enjoyed opening ceremony in January 3(Local date).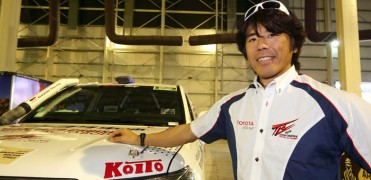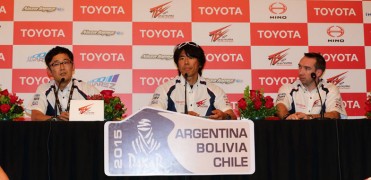 After the vehicle inspection, Argentina Toyota had the press conference. Jun has been used English at the conference before but this time he spoke Spanish that is the national language of Argentina and that warmed up the conference. Local TV did on air that and a lots of TV cameras surrounded him at the start-ceremony. His attention degree from local media was higher than before.
Dakar 2015 starts at Buenos Aires, the Argentine Republic in January 4(Local date), drivers go through Republic of Chile and Plurinational State of Bolivia, and goal to Buenos Aires, Argentina in January 17(Local date). Official prepared 13 stages and the running distance is 9,111km. Stage 1 have Liaison 663km, and SS 170km, total 833km it's so tough stage from the first day. All we can do is more power to Jun and TLC.
Here's Jun's comment from on site that really excited.
"Many people in the start-ceremony and it must be the effect of the footage of the press conference, they call my name. I seriously feel that I watched by the media, 'cause I was on the local TV longer and lots of cameras chasing me. I keep my wit about the race and do my best !"