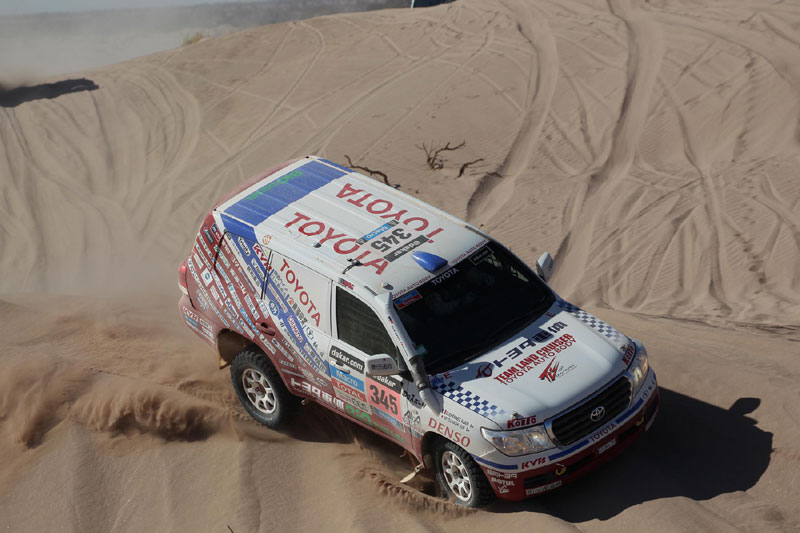 This is Dakar Rally ! Accomplished the survival route.
January 09(Local date), the stage of today was separated by 2 parts and difficult, long way to the finish line. The rally officials prepared 911km long included the liaison for today. However the temperature rose too high to complete a whole course and they abbreviated 100km of the last half.
After Jun passed the half point of the first half, he became the heat stroke a bit, and Alan the navigator fell sick. Jun's team mates came together till 40km from the start, he let others go forward due to wait for Alan's health condition was back. Under extreme weather condition, Jun gave the water to a motorcycle rider who did not have any, then Jun and Alan drank all of the water they had. Local temperature rose to 47 degrees and they opened all windows but no wind came in. It was really tough situation.
The clutch of Jun's car did not work on the way and he had to drive 200km with 2nd gear only, it took a long time. Additionally stuck 3 times, flat tire 2 times, many troubles hit Jun. And the overheating of the engine began. Jun repeated stop a little while to cool down the engine and run many times. The team mate's car was the same and the maximum time lag with them was 20 minutes over in the first stage.
On the entire route, Jun had 3 times stuck, 2 times flat tire and more troubles bothered him but he could finish the race. The gap with the team mates was only 3 minutes at the goal.
Jun said,
"Today's course was like uncharted road and this is The Dakar. The courses of this year are so much difficult to drive. However if I want to do a high speed rally, I would to go to WRC, this is the rally raid that drive through the rough and tough nature. Today's run was not good though the time lag was only some minutes as a result. I feel like I ride my luck"
Dakar Rally 2014 Stage 4 Result:
Liaison:384 km
SS:527km
T2 Autos Result:2nd
Overall standings:34th