2014.01.07
2014 DAKAR(day 2)
Report #04 "Stage2 San Luis > San Rafael"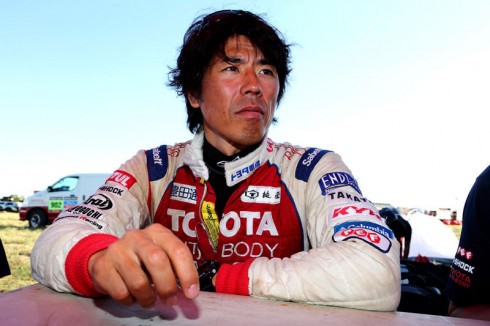 Finished 2nd at Stage 2.
January 06(Local date), the dried-up river and the high speed section appeared alternately, Jun's car recorded 160km/h at the top speed. He fought against the dust till crossed the goal safely on the day 2. Jun could pass the dried-up river in the low visibility by the dust. When he passed it, Jun felt the lower part of the car hit the stones and the car got some damages though he continued running with no problems.
Jun heard the abnormal noise from the car after that and he stopped once. Foj passed him during his stopping. He checked the car but no aberrance around. Later Jun found where the noise came from, it was the unplugged booster cable in the car interior. Jun relieved that was not the damage of the car. He continued the race but he took a wrong course a little and the buggies passed by him. He followed them but they were so much slow like yesterday. Jun send the sign to pass by sentinel(The equipment that informs the leading vehicle before the follower is about to pass) though they ignored it. Jun needed 200km more to pass the buggies.
And the high difficulty level sand dunes waited for Jun. He set the air pressure of the tires at 1.2 but failed to overcome the sand dune then succeeded after changed the air pressure down to 1.0. Though Jun's navigator Alan could not find the way point(The point that all cars must to pass during the stage)and Jun turned around the sand dune but the way point was still missing. They kept going to the way to the goal and found the way point 500m away…… if they ran straight, they were able to find the point easily.
After that, Jun found Foj's car that over ran and stuck at a soil wall. Jun had no tools to rescue and kept going. He finished at 2nd today's stage. Jun greeted the abnormal odor from the radiator but there was no problem. Only 2nd day was over and tougher places than today are waiting for him. Jun told that he will get centered on the race from tomorrow.
Dakar Rally 2014 Stage 2 Result:
Liaison:365 km
SS:433km
T2 Autos Result:2nd
Overall standings:35th