2014.01.04
2014 DAKAR(tech)
Report #01 "Rosario, Argentina"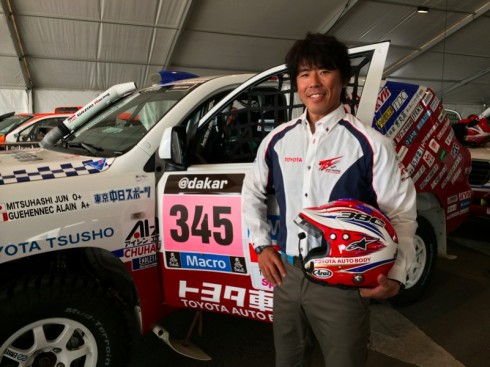 Passed the car inspection.
January 03(Local date), Jun takes his challenge again. "Dakar Rally 2014 Argentina Bolivia Chile" begin on January 05(Local date). The car inspection started at Rosario, Argentina from 07:45 AM January 03(Local date). Jun made up the preliminary inspection before that, and pass the real part with driver's documentary examination in an hour without any troubles.
The rally schedule of this year, the starting ceremony on January 04(Local date), and the rally starts on January 05(Local date). Drivers and riders run through the country of Bolivia that became the first time host nation of Dakar Rally this time then finish in Valparaiso, Chile on January 18(Local date). 15 days and 5500km, and it has the longest days and distance in the South America rally history.
The weather of Rosario is bad, it's raining and the local temperature is not so high 16-20 degrees. Police shut down the avenues around the rally village and the road traffic regulation started already. The mood for the start of rally getting higher and higher now.
After the car inspection, Jun and his team hold the car in the parc ferme. Jun informed us that he talks about the rally in this report only. No interrnet broadcasting this year and he will get centered on the race. Jun looks like calm himself down but he must be driven by an urge for revenge against the last year's result. Jun is really wanting to report his big win of commercial vehicle division here.