2014.01.17
2014 DAKAR(day 11)
Report #13 "Stage 11 Antofagasta > El Salvador"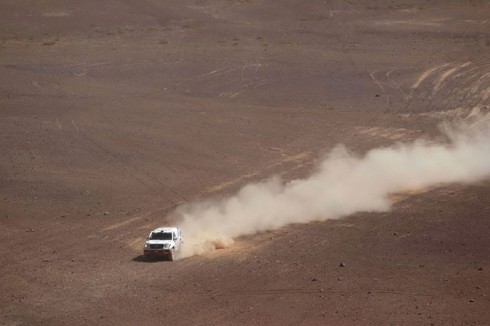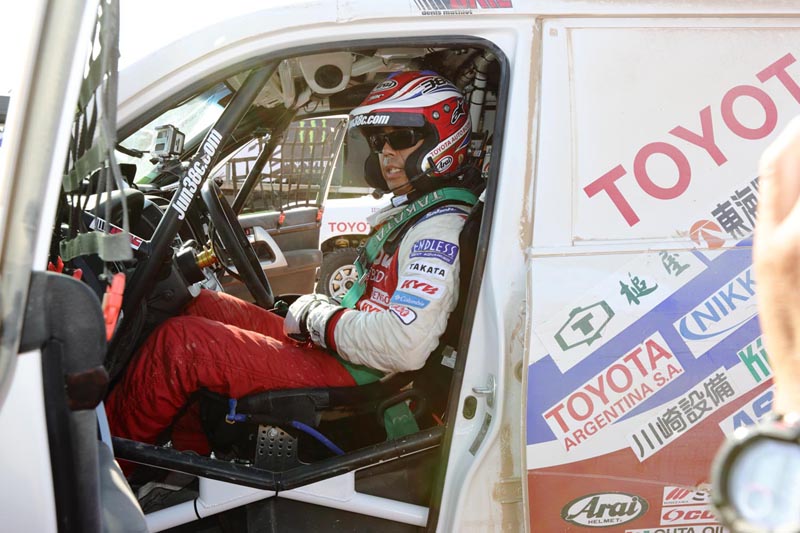 Faced and cleared the most difficulty with Jun's back to the wall.
January 16(Local date), everyone said the stage 11 was the most difficult course in the last half of Dakar Rally 2014. Jun fought 8 hours long battle and finished safely. He defended the first place at all cost. Jun had a headache for unknown reasons from the start and it is getting better while he got centered on the race.
Suddenly the electric power supply of the car was down. This kind of trouble happened after the engine stopped till today. Jun had one spare parts for that and he changed the parts then succeeded to restart the engine. Jun decide to follow the team mate's car to prepare if the same problem occured on the way. But he did not tell them about it and the team mate tried to get away from Jun, so 2 cars ran like battled along the way.
Many cars missed the course after the road surface became hard and Jun saw they ran about in confusion. After that the team mate took a lead at 50km point to the goal. Jun suffered from headache bad and he had a feeling of fatigue. He looked like did not have enough concentration. The tires punctured at the moment. Jun tried to drive to ward off the stones on the road surface but front and rear tire of right side went flat. He had 3tires and remained one. Jun continued the race with the anxious thought about the tire in the feshifeshi ground included a lot of stones and the ground was shaking the car up and down. Jun finished to run rest of 30 km to the goal with his back to the wall.
Dakar Rally 2014 remaining 2 stages. The distance of tomorrow's SS is 350km, it is shorter than today but it will be so difficult after Copiapo. Jun accomplished there many of times and we hope he drives safely.
Dakar Rally 2014 Stage 11 Result:
Liaison:144km
SS:605km
T2 Autos Result of today:2nd
Overall standings of today:24th
Total T2 Autos Result:1st
Total Overall standings:19th