2014.01.08
2014 DAKAR(day 3)
Report #05 "Stage3 San Rafael > San Juan"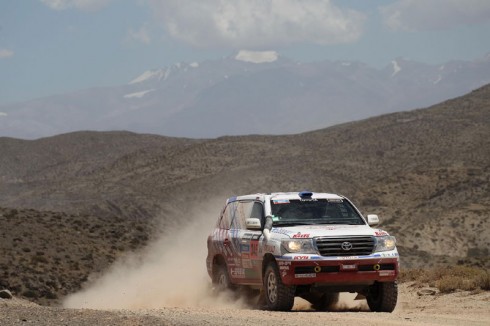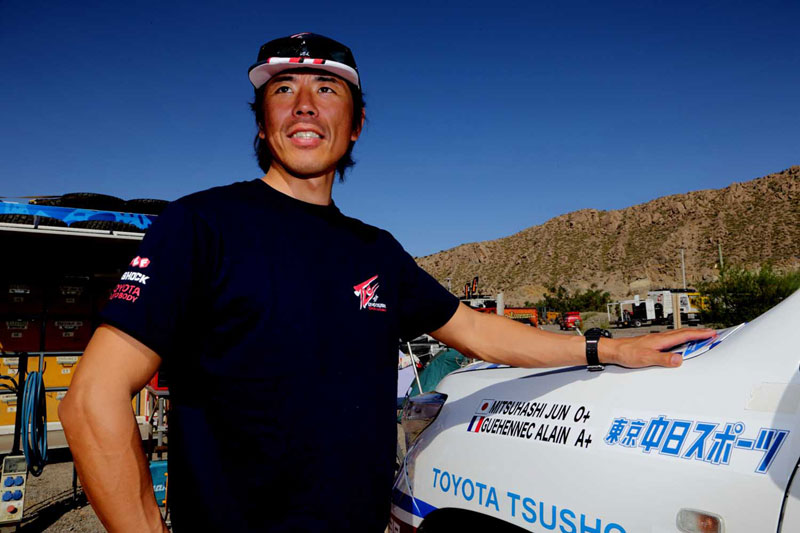 Finished in the first place.
January 07(Local date), Today's course was really hard because of many stones and crevasse on the ground. Jun arrived to the goal first while many cars had a flat tire. He found Gibon the team mate at 60km from the start, he also got the flat tire and just started to fix it. Jun ran through him. SS section of this stage was pretty rough and it breaks down the vehicles anytime and anywhere.
After that the car No.327 of the modified car class appeared in front of Jun. The custom car is faster than the stock car though Jun caught up No.327 at winding road of mountain area but the leading car speeded up at the flat lands and left Jun's car behind. This situation repeated and the car No.327 blocked Jun's way, so he could not increase his pace. Jun passed the cars before him then those cars got flat tire again and again. Peterhansel who was the top of overall yesterday got flat tire 6 times today. Jun drove so carefully and crossed the finish line without troubles in this bad condition.
The distance of tomorrow's SS section is 657km, the longest SS of Dakar Rally 2014. Besides Jun has to drive with camions those ran behind the cars till today. Jun thought and hoped the road will be wider than today, because the camions run together the same course. However the high speed section is different and much of the dust that made by the trucks will bother Jun. 6 or 7 camions will run before him.
The first half of this rally left 3 days. Jun came here with no troubles and accidents yet. He talked in a calm way.
"I'm going to the goal in this vein"
Dakar Rally 2014 Stage 3 Result:
Liaison:295 km
SS:301km
T2 Autos Result:1st
Overall standings:32nd