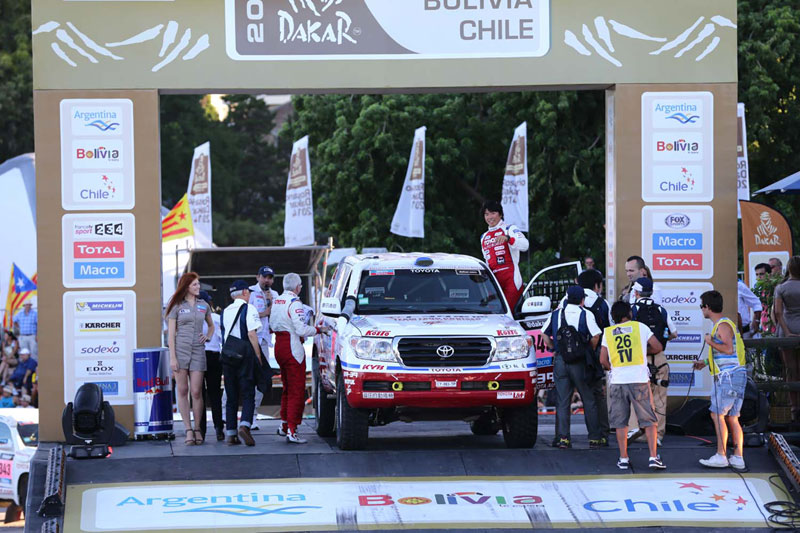 Starting Ceremony
January 04(Local date), all of the rally vehicles came up to the starting ceremony place and it began in Rosario the third biggest city of Argentina. Just before the start of Dakar Rally, the passional mood for the rally filled a whole city.
The stating ceremony held under the bright blue sky, rainy days continued till today but the weather turned so good and the temperature heated up by as much as 30 degrees. All cars departed the parc ferme and made a big parade on the street to the place then Jun showed up on the podium of the ceremony at 18:40(Local time). 6km parade run that watched by huge people on the both side of the road was a sight to see as usual. Jun looked like had a deep emotion during the parade, and said.
"I spent the time for this rally a year but it passed by like a flash. Even I felt 2 weeks of the rally is so much long till yesterday"
Jun got the official, Russian and Dutch media interviews. They asked about the race of the commercial vehicle division and Jun's comment expressed his large-scaled mind.
"From tomorrow, the road of Argentina is narrow and hard to pass by the leading vehicles I have to accept the patience during early part of the race. There are lots of stones, rocks and stubs everywhere and I will control myself to protect the car from accidents."
He continued.
"The rally course extended 1200km and days became shortened 1day the race must be tough. Longer way to go, many hard places, short time, I feel it backed to the old Dakar Rally of African days. I appreciate every day and drive to the win"
The rally starts 7:30(Local time) tomorrow. Finally 5500km battle begins !