2014.01.15
2014 DAKAR(day 9)
Report #11 "Stage 9 Calama > Iquique"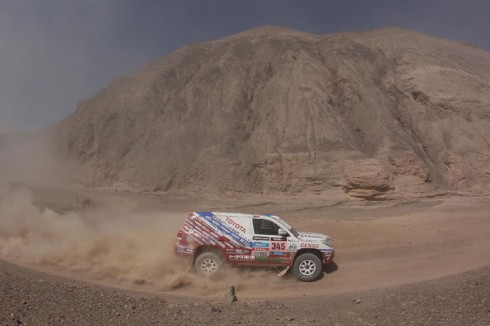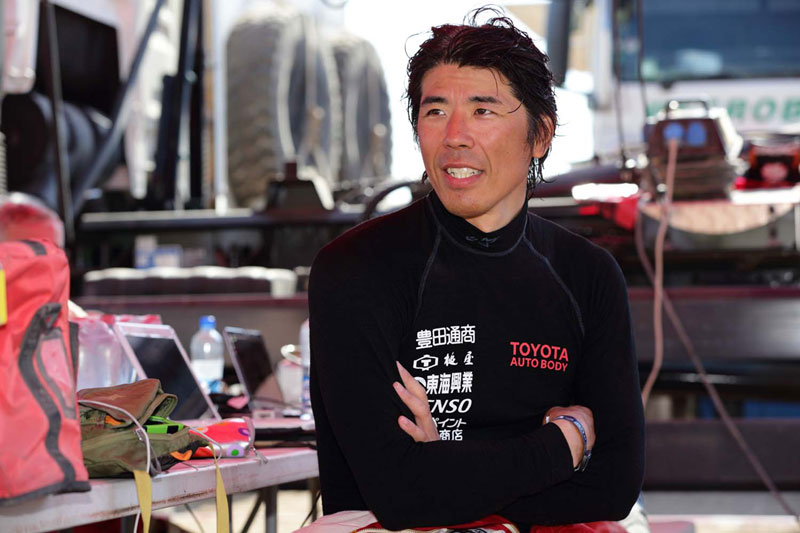 Despite an accident, defended the first place.
January 14(Local date), today was the bad day, that was Jun's opening words on the phone. But he finished today's stage, not separated by a distance with mechanical troubled car of the team mate and 1 of 4 crucial stages ended.
The course of today was down the Andean mountains at dash and headed to Iquique the resort along the sea. From start to 150km point, Jun's car ran with the camions in much of the dust. He set the air pressure of the tires low that will be a cause of flat tire and Jun drove slowly in the feshifeshi ground not to the tires punctured. If the car went off the course, it will be danger and ran at low speed by necessity, but Alan was frustrated by the slow pace. Jun spent the rest of the course fighting with Alan.
After Jun passed the camions, he could drive in top gear till the entrance of the sand dune area. His car drove off a sand depression about 4-5m deep. The camion came to the edge of that sand depression and Jun tried to stop the camion but it came down then hit Jun's car. Both cars stuck and could not move. The accident happened at just 10km from the goal. They needed much time to escape, Jun crossed the finish line soon after he succeeded to break out.
"I was driving like a perfect but I made the big mistake at the last. Time gap was not big as a result. I suppose I just got lucky because I had no flat tire and any mechanical troubles till finishing the stage and I'm going to keep this condition"
Dakar Rally 2014 Stage 9 Result:
Liaison:29 km
SS:422km
T2 Autos Result of today:2nd
Overall standings of today:30th
Total T2 Autos Result:1st
Total Overall standings:22nd