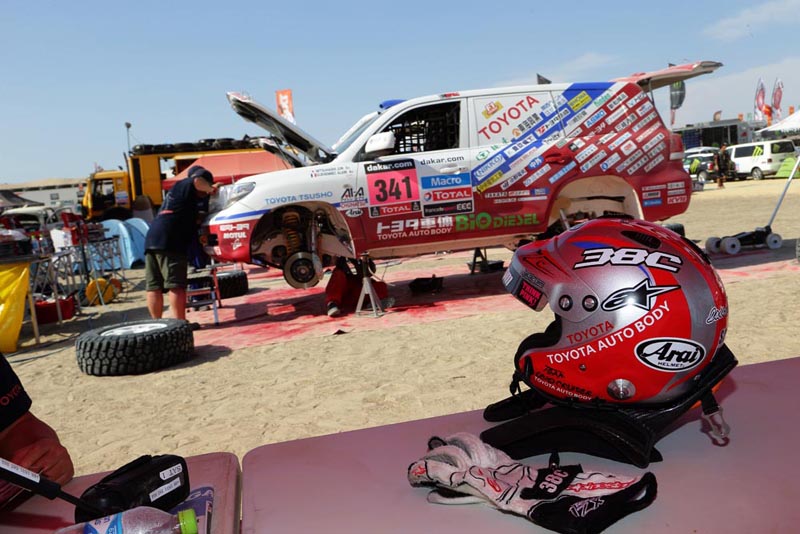 Report #03 "Stage02 Pisco > Pisco"
January 06(Local date), the second day of the rally. Today's course was the battle with the sand dunes at all. Even the veteran like JUN wondered why he had to run across too many sand dunes in the second day of the rally.
From the start to finish of SS, 400-600m high sand dunes continued in the stage 2. The difficulty of sand dunes at the first half and the middle was so high. JUN felt his car was so heavy in the soft sand but TLC No.1, No.2 made the rendezvous and finished the difficult course together without stuck.
JUN came in the goal 37th, he improved the competitive position today. No machine troubles happened yet and everything was fine. However Stage 3 of tomorrow and Stage 4 of the day after tomorrow are more difficult than today and he has to stay alert to keep away the gridlock in the sand.
His rival Xavier Foj got the machine trouble and his rank downed to 57th but JUN looked like didn't care about it. There is 40 minutes time gap between JUN and Foj but if stuck in the sand one time, the gap will be disappeared at once.
JUN rescued the upside downed car at the dry riverbed and 2 TLC cars helped the car together today. He told there was no wonder to rescue the troubled competitors during the rally, because there are lots of capabilities that he face the same situation.
We respect their sportsmanship and hope to see JUN's bold challenge tomorrow.
Dakar Rally 2013 Stage 02 Result:
Liaison: 85km
SS:242km
Overall standings: 37th