2013.01.06
2013 DAKAR(day 1)
Report #02 "Stage01 Lima > Pisco"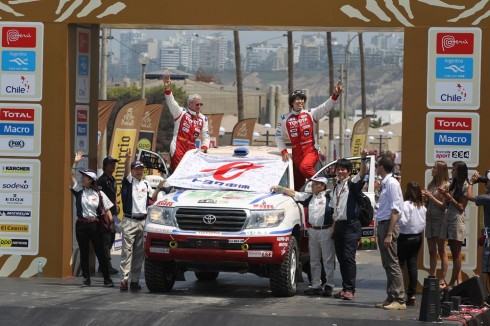 Report #02 "Stage01 Lima > Pisco"
January 05(Local date) Dakar Rally 2013 has just began ! Competitors left from Lima the capitol city of Peru. People exploded in exultation both side of the road. Weather was fine but so hot.
The desert was the today's course. The rally official announced to all the teams, the sand of SS is very soft and take care about it during the race. That information baffled JUN and other drivers but he could run and clear the course without troubles.
JUN arrived Pisco without any machine troubles. He reached and passed his rival Xavier Foj who took the victory of production category last year's Dakar rally. Foj was 76th, JUN ranked 57th. He took a lead and it was the big deal for JUN.
The sand dunes waiting for him tomorrow and JUN will attack the sand dune from backward, because the trail lines show him to take the right way. JUN worried about passing Foj in the first day become good or bad in the second day.
The battle of mental also began from the first day of the rally, but JUN had good start for taking back the win. We can't take our eyes off from JUN and his battle from tomorrow.
JUN said "Dakar Rally 2013 started at last. I do my best with your cheers and support us till the end  !"
Dakar Rally 2013 Stage 01 Result:
Liaison: 250km
SS:13km
Overall standings: 57th