2012.10.05
2012 PHARAONS
Report #04 Stage 04 Abu Mingar > Abu Mingar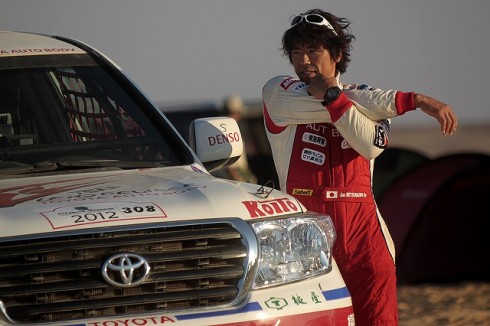 Stage:12th, Class:3rd
Overall Standings:8th, Class:1st
October 4(Local date), Jun started from the overall standings 5th and the soft sand caught his car today. Other high powered machines climbed up the sand dune easily but his stock car based race machine stuck in the sand easily. Also the radiator problem happened and Jun had to spent a time to repair it. Well, Jun's ranking got down today.
He encountered another accident during his car stuck in the sand. When Jun evacuated the air from tires, the motorcycle rider fall from the sky and hit the ground. It was 10m high and the rider couldn't wake by himself. Jun helped the rider, he took off the helmet from the rider and called somebody to help, it was the situation that he couldn't let it pass. Jun's rank was down, and he lost much time. However he did what the human should do and accepted the bad result.
The rally remain 2 days and Jun will catch up on the antecessor soon.