October 7, 2011 Rally des Pharaons 2011 Stage 4 Sahl Baraka to Tibnya
LIASON: 96.39 kilometers Special Stage: 444.88 kilometers Total drive distance: 541.27 kilometers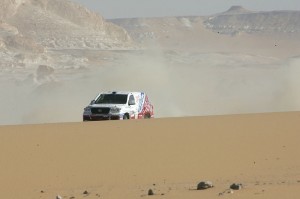 Today's course will be the longest portion of the rally with a total length of 541 kilometers. Mitsuhashi started out in second place and after a 90 kilometer drive entered the special stage section. Today's conditions meant serious driving over a sandy road surface.
Mitsuhashi comment: "Honestly speaking, today was a really tough course for under-powered commercial class cars. It was so bad that 2 cars got stuck within a mere 30 minutes after the race started. Up through yesterday, we were overtook by others and then overtook them but on a day like today, that tactic was impossible. Luckily after passing the CP1, the sand dunes that were so scary yesterday turned out to be really easy today but the sand was really soft so we did get stuck one time which cost us a loss of about 15 minutes."
As Mitsuhashi sees things, this stage did not have a good ending. Yet at the end of stage 4, he was in 4th place maintaining a top cumulative position. Well, tomorrow will be the final day of the race. Mitsubashi says, "Tomorrow's course will be more than 350 kilometers so unless our rival runs into trouble we'll be overtaken. Yet I am going to do everything possible to hold onto that overall 2nd place position!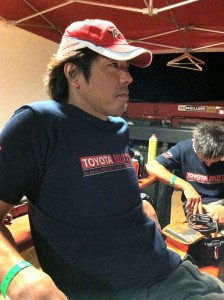 October 7 Pharaons Rally 2011 Stage 5 Results
Overall standings Group standings Class standings Driver Number Competitor Team Vehicle Time Overall (accumulated) Time
1st Place 1st Place 1st Place 301 Schlesser Jean Louis SCHLESSER ORIGINAL 4:34:47 19:50:41
2nd Place 1st Place 1st Place 302 Gadasin Boris G-FORCE PROTO 5:08:26 22:13:01
3rd Place 3rd Place 2nd Place 311 Nesterchuck Vadym 5:17:14 3:25:02 23:04:20
4th Place 1st Place 1st Place 304 Mitsuhashi/Guehennec pair TOYOTO LANDCRUISER 5:18:02 21:57:00
5th Place 4th Place 1st Place 316 Merceij Peter RALLYRAID UK DESERT WARRIOR 5:53:09 28:14:53
Stage 5 Overall standings
Overall standing Group standings Class standings Driver Number Competitor Team Vehicle Time Overall (accumulated) Time
1st Place 1st Place 1st Place 301 Schlesser Jean Louis SCHLESSER ORIGINAL 19:50:41
2nd Place 1st Place 1st Place 304 Mitsuhashi/Guehennec pair TOYOTO LANDCRUISER 21:57:00
3rd Place 2nd Place 1st Place 302 Gadasin Boris G-FORCE PROTO 22:13:01