Category Archives:
2011 PHARAONS
2011.10.09
2011 PHARAONS
Nightmare Happens on Final Day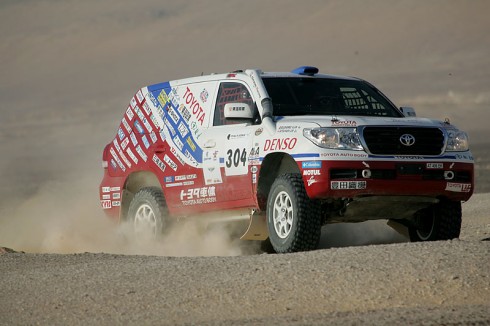 October 8, 2011 Rally des Pharaons 2011 Stage 6 Tibnya to Cairo
LIASON: 78.74 kilometers Special Stage: 350.16 kilometers Total drive distance: 414.28 kilometers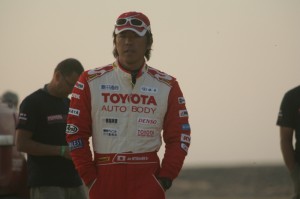 All we can say is that it is really too bad. If today's driving had gone well then it would have been a smooth victory in the commercial car class with 2nd place overall following up on two consecutive victories from last year. However the goddess, Lady Luck did not smile upon Mitsuhashi today. Amidst a course where a lot of cars got confused and made course errors, Mitsuhashi and his navigator Alain proceeded correctly on course, and gradually edged ahead of all the other drivers including Schlesser's buggy or in other words entered the sand dunes in No. 1 position. It was there that mechanical trouble occurred, and for Mitsuhashi, the Pharaons rally ended there.
Mitsuhashi comments, "There nothing else you can say except that it is really frustrating. There is nothing we could do about it, we didn't break it ourselves, and all we could do was wait 4 hours on the sand dunes for assistance to arrive. I feel that these kind of things do happen. What make it really regrettable is that up until this point today, Alain had done some really great navigating on what was a really difficult route to find one's way, on so we were running in top position. Though I can say its good if don't run into this trouble on the Dakar rally, it is still really frustrating."
Mitsuhashi eventually received road assistance and though greatly delayed, did arrive safely back at the finish point. Though ultimately he completely finished and did not have to retire from the race, Mitsuhashi still lost the overall standing he really deserved. Though it was an unfortunate Pharaons finish for Mitsuhashi it would be nice if it prevented any trouble from happening in Dakar.
In any case our sincere thanks to all those who supported us through the final race day.
October 8 Pharaons Rally 2011 Stage 6 Results
Overall standings Group standings Class standings Driver Number Competitor Team Vehicle Time Overall (accumulated) Time
1st Place 1st Place 1st Place 301 SCHLESSER JEAN LOUIS SONANGOL SCHLESSER 3:36:53 23:27:34
2nd Place 2nd Place 1st Place 311 NESTERCHUK VADYM 3:46:57 26:51:17
3rd Place 1st Place 1st Place 322 KUZNETSOV ILYA TOYOTA LandCruiser 4:27:37 33:19:38
4th Place 2nd Place 2nd Place 305 DE LORENZO DARIO TOYOTA LandCruiser 4:36:52 36:15:12
5th Place 3rd Place 1st Place 307 EL ZANATY KARIM RALLYRAID UK DESERT WARRIOR 5:06:40 42:09:51
—
13nth Place 5th Place 4th Place 304 MITSUHASHI JUN /
GUEHENNEC ALAIN TOYOTA LandCruiser 36:01:01* 57:58:00
*Including 29 hour penalty
Overall standings
Overall standing Group standings Class standings Driver Number Competitor Team Vehicle Time Overall (accumulated) Time
1st PLACE 1st PLACE 1st PLACE 301 SCHLESSER JEAN LOUIS SONANGOL SCHLESSER 23:27:23
2nd PLACE 2nd PLACE 1st PLACE 311 NESTERCHUK VADYM 26:51:17
3rd PLACE 3rd PLACE 2nd PLACE 302 GADASIN BORIS G FORCE PROTO 28:57:00
—
13nth PLACE 5th PLACE 4th PLACE 304 MITSUHASHI JUN /
GUEHENNEC ALAIN TOYOTA LandCruiser 57:58:00*
*Including penalties