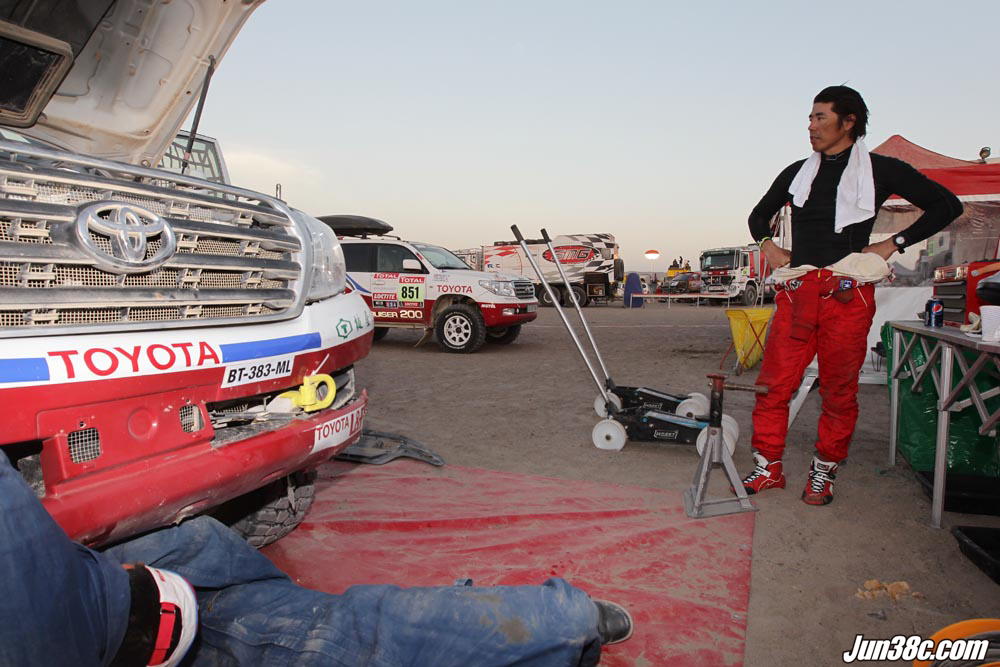 January 13(Local date), the second day in Peru. The large desert and two big sand dunes waited  for Jun in the stage. He said "The stages of Peru were much difficult to approach than any others." Many people checked today's result already, and he was somber for it after all…..
In the second half of SS, the trouble happened at 10km point from the goal. The radiator got a hole in the same way that happnened some days ago. Jun did the emergency treatment but lost 45 to 50 minutes there.
He was rattled mentally and his car fell down to the big hole. The tire also came off, so the car was incapable of moving. Jun, at last, escaped from the hole with a help from the truck. This was the situation that caused him to waste so much time today.
Jun said "I am more disappointed falling down the hole than the radiator accident. However it is not just me. Until the end, anything can happen to the other teams too. I will tell myself that and go to bed tonight."
He had unfortunate consequence that made him yieled the top in his class, but nobody knows the epilogue until crossing the finish line. In fact, only 1day remaining of the race but Jun will be on the start line with a delight and a hope again. Go for it Jun !
Dakar Rally 2012 Stage 12 Result:
Liaison: 440km SS:246km
T2 Autos Result: 2nd
Overall standings: 24th
Pos. N° Name Mark Time variation Penalty
1 340 FOJ (ESP) CERVANTES () TOYOT 03:22:09 -  -
2 339 MITSUHASHI (JPN) GUEHENNEC (FRA) TOYOTA 04:33:07 01:10:58 -
3 346 ALHERAIZ (UAE) ALKENDI (UAE) TOYOTA 07:03:33 03:41:24 -
4 424 GIRARD (FRA) SIMONIN (FRA) TOYOTA 16:14:09 12:52:00 -
http://www.dakar.com/dakar/2012/us/stage-12/rankings/overall-cars.html#ancre