Category Archives:
2012 DAKAR
2011.12.30
2012 DAKAR
Report #2 "Passed the car inspection"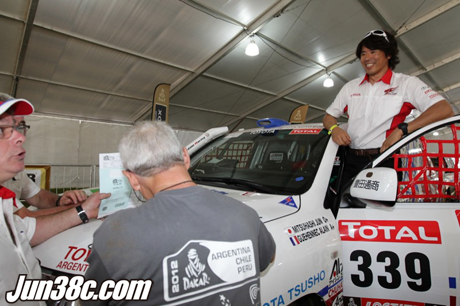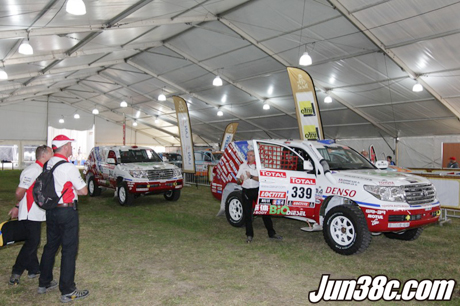 Jun arrived in Mar Del Prada at last. The start point of Dakar Rally changed from Buenos Aires to here this year. It was his first visit to the city of Mar Del Prada and he was surprised that it was bigger than he imagined. Usually the car inspection by rally officials take a long time but was done in about 2 and a half hours this time.
When the inspection finished Jun felt he was marked harder than his rivals. Since he won the commercial vehicle class last year by entering with the overall ranking of 12th, he knew he was being closely watched.
Jun's latest comments: "I'm feeling relieved the inspection was over but felt that all eyes  were on me from various sectors. There're many teams in second group who tries to get higher rank than top group teams targeting overall champion. We're one of the second group too but it's not good way to fight against higher groups who are racing with greater performance cars than ours. 'Cause in the commercial vehicle class, keeping our own pace is the key to the race. Not to lose is much more important than to earn. That is the point. Of course overall ranking is important, however I think a good conclusion comes naturally if I succeed in keeping my pace in the difficult circumstances when rivals increases"
Briefing and ceremony in December 31(Local time) are the only things scheduled for the rest of the year.